Lockdown life has given us plenty to worry about over the past 12 months. It's Stress Awareness Month, and while life can often be challenging, one of the ways we can overcome anxiety is to focus on positive news.
With this in mind, we've compiled a list of nine projects in BwD helping to create happier, healthier communities across our borough.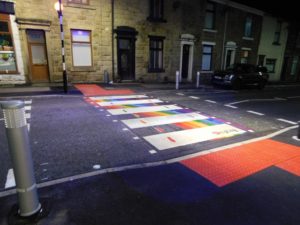 Road safety innovation across the borough making shared spaces safer
One of the best ways to improve road safety and create healthy streets is to implement new markings to guide pedestrians properly, and ensure they are able to cross safely. One innovative crossing for Darwen was thanks to inspiration after one evening inspection last year. The team observed how UV lights outside a nightclub lit up the clothing of those gathered at the venue. Working with a specialist local supplier a crossing that would react well to UV lights was designed, making it safer for all road users.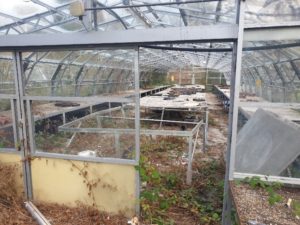 Community wellbeing project gets green light
Abandoned greenhouses in Witton Country Park are to be revived for a food resilience and community wellbeing project.
Activities organised by Lancashire Wildlife Trust Myplace will improve the region's food resilience, participant's physical health. The project hopes to address community segregation, reduce social exclusion, embrace diversity, and enrich lives by developing meaningful relationships.
Our over 65s happiest in north
Blackburn has been named as one of the happiest places to live in the UK.
A study revealed where over-65s in the UK feel the most happy, with Blackburn coming fifth in the country. The survey assessed life satisfaction, feelings of worthwhile, and levels of happiness and anxiety, and used the Office for National Statistics' wellbeing dataset to reveal which areas are the happiest places to be.
FULL STORY:
Blackburn named as the happiest place to live in the North – LancsLive
Award winning activities for all abilities
Take A Hike Lancashire is a free to join walking group set up when the first lockdown occurred last year to support women's emotional, physical and spiritual wellbeing. Recently the group leader was named as the Living Streets Charles Mayer Walking Champion 2021 in a national contest. BwD Cycle Centre Hub in Witton Park has also just reopened with sessions for every ability from tots to adult trikes!
MORE WAYS TO STAY ACTIVE:
Active Outdoors – Activity Timetable | re:fresh (refreshbwd.com)
Walking and cycling numbers are up across our borough
Over the past year we've seen hundreds of families across the borough making good use of our free activity apps. The free apps are like a personal trainer in your pocket, motivating and inspiring you and your family to maintain a healthy weight, which in turn keeps your body fit to fight diseases such as coronavirus.
The Explore BwD app is available to download on:
Android https://play.google.com/store/apps/details?id=cc.rocca.goexplore.bwd&hl=en_GB
Apple https://apps.apple.com/us/app/explorebwd/id1502525284
Cycling app:
Cycling in East Lancashire | Blackburn with Darwen Connect (bwdconnect.org.uk)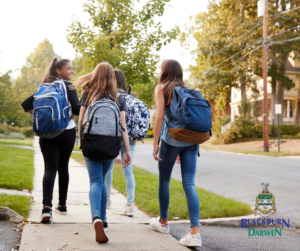 Healthy streets are coming to BwD
Right now there's an interactive open consultation on how we can create better shared spaces in BwD, no matter what your ability or mode of travel. The map allows you to pick your neighbourhood out and highlight problem areas or make suggestions that will better enable easy walking and cycling.
Consultation: Walking and cycling | Blackburn with Darwen Borough Council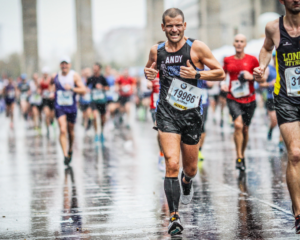 We have one of the world's first Running Mayors
Last month, local running enthusiast Andrew Gardner took on the role as Blackburn with Darwen's Running Mayor. Andrew is keen to share the mental and physical wellbeing that running has brought to his busy life with all fellow BwD residents. If you're thinking of trying it, Andrew will be close to hand for advice and information about local facilities and running groups.
Funding for BwD Thriving Communities project to help with pandemic recovery
Almost £50k in social prescribing funding was awarded to help BwD communities to connect both with their local nature and their community. The Bureau Centre for the Arts CIC – Thrive Blackburn and Darwen project will create a social prescribing hub venue and a co-created outdoor space, linking arts provision with green recovery. Social prescribing is going to be key in supporting our communities to recover from them pandemic.
Fab green spaces
Here in BwD we're very lucky to have so many beautiful green spaces to use for walking, cycling and more. Whitehall Park just got the green light for a revamp and the historic Darwen Tower is being revamped to its former glory.
Find out more about all these stories at The Shuttle
More about Stress Awareness Month